How to change the way the barcode scanner sends scan data to applications.
By default, the bar code scanner uses the USB HID interface. Other modes can be set by scanning the bar codes below.
USB Serial Interface: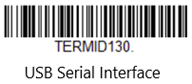 Keyboard interface: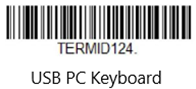 USB HID (the default):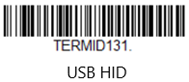 ---
Sign up for our Customer Portal. The portal provides a home base for you to interact with the MicroTouch support and services teams. It gives your a secure place to track and manage all open and closed support tickets—or file a new ticket—so you can move issues along at your own pace, see ticket activity and be reassured that your problems are being addressed. The portal also provides the most efficient method to initiate an RMA.
Launch a Ticket with our technical resource center. The center is here to support you M-F, 8 AM to 5 PM EST.
To reset to the default USB HID interface mode, scan the bar code below.