In the US; MicroTouch uses a service spare model, this mean much faster TATs (Turn Around Times).
in the United States our quoted turn around time is 6-10 business days from the time the RMA placed. However MicroTouch uses a a service spare model meaning that a like new unit is typically on the shelf ready to ship out as soon as your RMA paperwork is processed. So you do not have to wait for MicroTouch to receive your product, repair it and ship it back. If a service spare is available, that unit will be shipped to you as a replacement. You prior unit will be repaired, reconditioned and made ready for the new customer.
US RMA's received prior to noon Eastern Time start the TAT clock, RMA's received after noon Eastern start the following business day. Our US repair-center is centrally located in the US, and our standard service is FedEx ground - expedited service can be requested. FedEx transit times for 2022 are below. Note: Units 32" and larger may ship via freight which will increase transits times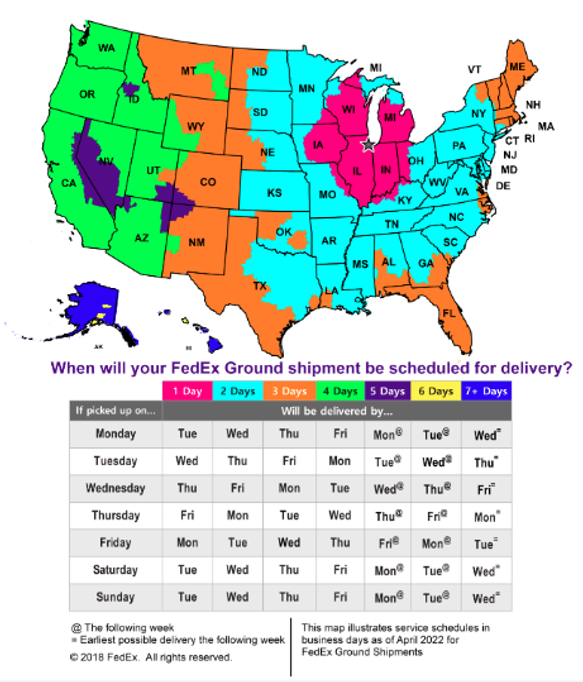 If you have question, or additional information, please reach out to our support team - Details below:
Sign up for our Customer Portal. The portal provide a home base for your to interact with MicroTouch support and services teams. It gives your a secure place to track and manage all open and closed support tickets—or file a new ticket—so they you move issues along at your own pace, see ticket activity and be reassured that your problems are being addressed. The portal also provides the most efficient method to initiate an RMA.
Launch a Ticket with our technical resource center. The center is here to support you M-F, 8 AM to 5 PM EST.