MicroTouch Windows devices come pre-loaded with Windows 10 LTSC. This article explains what that is and why it is used
Windows 10 IoT LTSC is a Windows 10 Enterprise OS that is used for purpose built devices, POS, Kiosk, and other such devices. There is very little difference between Standard Windows 10 Enterprise and Windows 10 2019 LTSC, mostly having to do with licensing criteria; purpose built devices vs general purpose devices; and advanced lock down features.
LTSC = Long Term Service Channel. This calls out the support structure difference between LTSC and Standard Windows. LTSC versions have a 10 year life cycle, and do not force feature updates.
Currently MicroTouch Windows based AiO devices ship with Windows 10 IoT 2019 LTSC.
Support Schedule below: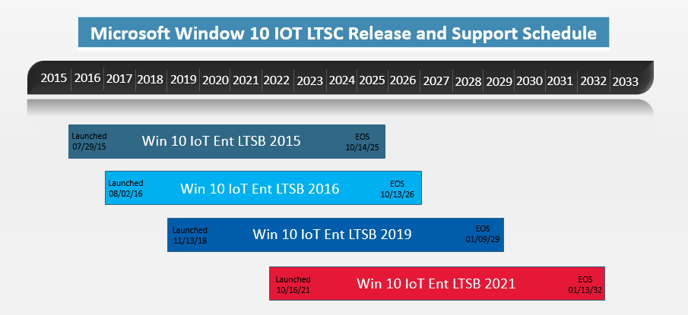 If you have question, or additional information, please reach out to our support team - Details below:
Sign up for our Customer Portal. The portal provide a home base for your to interact with MicroTouch support and services teams. It gives your a secure place to track and manage all open and closed support tickets—or file a new ticket—so they you move issues along at your own pace, see ticket activity and be reassured that your problems are being addressed. The portal also provides the most efficient method to initiate an RMA.
Launch a Ticket with our technical resource center. The center is here to support you M-F, 8 AM to 5 PM EST.